Click on the links below to go directly to any of the following sections:
About Seville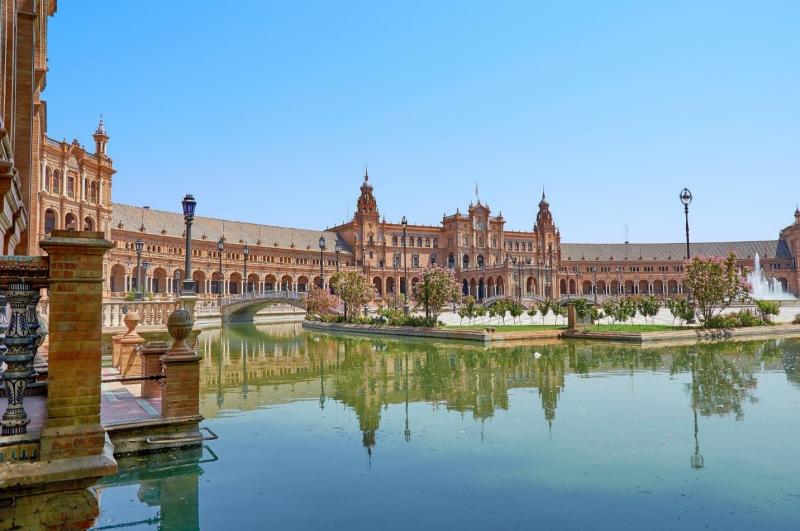 With its 3,000 year history, Seville is a dream tourist destination with three UNESCO World Heritage Sites, a buzzing night life, museums, historic buildings, excellent restaurants serving Spanish and international cuisine, theatre, flamenco dancing and more. Seville is situated in the famous Andalucia region of southern Spain, where there are spectacular national parks, miles of sandy beaches, iconic architecture, gastronomic delights and a thriving local culture to experience. 
Spain is the only European country to have a physical border with an African country. 
Spain was the world's first global empire.
Spanish is the world's second-most spoken native language.
Spain boasts the world's third-largest number of UNESCO World Heritage Sites.
General information on Spain and Seville
Spain is a country on Europe's Iberian Peninsula in the south west of Europe. It includes 17 autonomous regions with diverse geography and cultures. Its capital city is Madrid. Other major cities include Barcelona, Seville, Granada and Valencia.
Spain covers an area of 505,990 km2 (195,360 sq mi), the second largest in the EU and has a population of over 47.4 million. Seville has a population of about 703,000.
Location of Seville
Seville is situated on the lower reaches of the River Guadalquivir, in the southwest of the Iberian Peninsula.
Map of Spain
Official Language
The official language of the entire country is Castilian Spanish. Other 'Spanish languages' can also be official in their respective autonomous communities.
Climate
Seville has a Mediterranean climate featuring very hot, dry summers and mild winters with moderate rainfall. The average daytime high temperature in March is 20 °C / 68 F and nights 46.4 F / 8 °C. Visit weather.com for the current forecast.   
Time zone
The local time zone is Central European Time – CET from late October to late March. CET is 1 hour ahead of Coordinated Universal Time (UTC).
Currency
The currency in Spain is the Euro (EUR). Visit www.x-rates.com/calculator to calculate the exchange rate from your currency. Credit cards are accepted in major hotels as well as shopping malls.
Tipping
Tipping in Spain is not compulsory and is entirely at the discretion of the customer. The majority of Spaniards will not tip as many restaurants that provide table service will already factor this in with the addition of a 5-10% service charge. Look for "servicio incluido" on the bill. It is polite to add a small tip on top of this in change if you have it. If service charge isn't included, it's normal to tip 15% - in cash not via card.
Business Hours
Bank Hours: Bank hours in Spain are 9am to 2pm Monday to Saturday, 
Typical Office Hours: In general, the working day in Spain is split into two halves, the day starts at 9am until 2pm and 5pm to 8pm, with the famous "siesta" in between. The working week runs from Monday to Friday, except in hospitality and retail.
Typical Shopping Hours: In southern Spain shop hours are usually from 9:00/10:00 to 14:00 and 17:30 to 20:30. Saturdays are often only open in the morning. On Sundays the shops in Spain are traditionally closed. 
Public Health/ Covid-19
Check the vaccines and medicines list and visit your doctor (ideally, 4-6 weeks before your trip) to get vaccines or medicines you may need.
For more detail, visit the Centers for Disease Control and Prevention.
Covid-19: While there are no Covid-19 restrictions for non-EU arrivals, please note that face masks remain mandatory on public transport in Spain until March 2023, when the policy will be reviewed. Face masks are not mandatory in indoor public settings (except in healthcare settings). As the situation may change, here are some other useful links to consult for the latest on Covid-19 in Spain:
Safety
Generally, Spain is a safe country to travel around. As in all major cities, people should be aware of safety risks and be vigilant of your surroundings at all times.
Measures
The metric system is used. 
Voltage and Plug Type
For Spain there are two associated plug types, types C and F. Plug type C is the plug which has two round pins and plug type F is the plug which has two round pins with two earth clips on the side. Spain operates on a 230V supply voltage and 50Hz.
Visitors from abroad will need an adaptor for appliances that have been brought from home, such as laptops, hairdryers and phone chargers.  Please use a power converter if your appliance or charger isn't dual voltage and check that your device is compatible with a 50hz power outlet.
Visa Information
To enter Spain, you may require a valid Schengen travel visa. If you require a visa to travel to the Symposium or if you are unsure, please contact the Spanish Embassy or Consulate in your country or region.  The Embassy or Consulate will advise on specific visa requirements, such as information on travel visa application and submission procedures, required documents, application fees payable, and whether booking an appointment for an interview is required. Visa fees may vary depending on nationality and processing time available.
Visit the Schengen visa website for details.