By Inés Mendoza Acosta, Becaria Grupo GEDEFO SEFH
The Oncology Pharmacy Working Group of the Spanish Society of Hospital Pharmacy (GEDEFO-SEFH) held its 7th Annual Meeting on May 18-19 in Madrid. As every year, this meeting has focused on multidisciplinary patient care and the possibility of sharing experiences with colleagues from all over the country. 
Dr. Olga Delgado, president of the SEFH, welcomed the attendees, highlighting the development of oncology pharmacy in recent years, accompanied by Dr. Estela Moreno (general coordinator of GEDEFO) and Dr. Jose Antonio Marcos (treasurer of the SEFH and member of GEDEFO).

The inaugural session "Past, present and future of Oncology Pharmacy" was given by Dr. Gerardo Cajaraville (founder of GEDEFO), emphasizing the super-specialization of oncology pharmacists and their inclusion in multidisciplinary teams, adding value to patient care. As challenges for the future, he proposed the search for efficiency, healthcare innovation and digital transformation, all of which are included in GEDEFO's strategic plan.
The first round table "Contingency plans in the area of cytostatic handling" was moderated by Dra. Marga Garrido (secretary of GEDEFO), with the participation of Dra. Eva González-Haba and Dra. Araceli Moreno. They reviewed the most relevant points of regulations on the handling of hazardous drugs such as USP800 or recommendations such as those published by ISOPP. This allowed a great debate on topics such as cross contamination, environmental controls of the sterile area, cleaning and disinfection of vials and handler safety.
The round table of the evening session about "What can we learn from other specialists?" was moderated by Dra. Irene Mangues. In this session participated Dra. Mª Pilar García-Muret, Dra. Mª José Blanco and Dra. Virginia Cabello, specialists in Dermatology, Ophthalmology, and Nephrology respectively. They highlighted the importance of antineoplastic adverse events prevention and the role of oncology pharmacists in their management.
The last session of the day "Experiences in Oncology pharmacy" was moderated by Dra. Garbiñe Lizeaga. In this round table, different pharmacist exposed their experiences related to Oncology Pharmacy in 6 minutes. Some topics outlined ranged from a proactive follow-up of adverse events in an oncology pharmacy consultation to treatment adherence in oncology patients, or the impact of rituximab on COVID-19 infection.
The second day of the meeting started with the "Advanced Therapies" round table moderated by Dra. Mª Sacramento Díaz. Dra. Carla Alonso and Dra. Laila Abdel-Kader presented their experiences in the Advanced Therapies Unit and explained how it was the opportunity to integrate into the Hematology Unit.
After that, Dra. Estela Moreno (general coordinator of GEDEFO) highlighted the aspects that we can learn from other societies, featuring XXI International Symposium on Oncology Pharmacy Practice (ISOPP) that will take place from 2 to 4 March 2023 in Seville and GEDEFO will be the host. 
The last round table about "Other needs of oncology patients that we can't forget" was moderated by Dra. Beatriz Bernárdez focused on the importance of physical activity, prevention, and early detection of malnutrition and different points about oncology patient sexuality addressed in the clinical interview. These issues were presented by Dra. Marta Pérez, Dra. Laura Rey and Dra. Martina González respectively.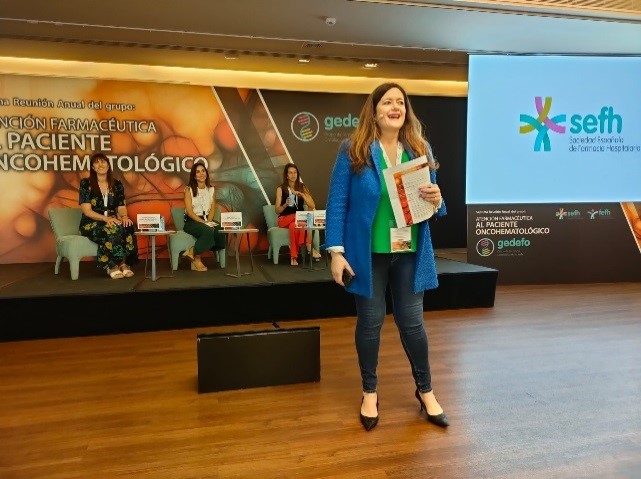 About SEFH 
The Spanish Society of Hospital Pharmacy (SEFH) is a scientific organization, private, active, and professional, pro bono, dedicated to increasing the state of knowledge. Its actions seek the improvement of health outcomes of patients through the effective and safe use of medicines.