By Nick Duncan, Consultant Haemotology Pharmacist, Queen Elizabeth Hospital, Birmingham, UK
One of the things I love about my job is the variety it contains and the fact that I get to wear a number of different hats as part of my role.  I can be a clinical pharmacist, a prescriber, a teacher, a trainer, a researcher and a manager at different times of the working week and so it is perhaps difficult to describe a "typical" day.  But I will do my best……
The Queen Elizabeth Hospital is a large referral hospital with a very busy haematology unit serving both inpatients and outpatients from across the region.  I usually arrive at the pharmacy by 0815 hours and one of my first jobs of the day is to check my list of clinic patients.  I work as a prescribing pharmacist in a number of clinics each week and today it is the Chronic Myeloid Leukaemia (CML) Clinic. I have about 10 patients to see and need to make sure that the correct blood tests have been requested as it is crucial that we are regularly checking the clinical response and potential toxicities in our patients.  During each patient consultation I will ask about adherence to medication, discuss toxicities and their management, explain the latest blood results and confirm future plans: many of our patients are keen to lower the dose of their CML medication to reduce the risk of side effects and we are now able to offer selected patients the option of stopping treatment altogether.  So it is very important that the patient and I are working together to optimise the treatment plan.  I find the clinic hugely rewarding: I have been able to build up relationships with patients over a number of years and, as a "medicines expert", I feel that I can make a real difference to patient care as part of the clinic multi-disciplinary team, working alongside my medical and nursing colleagues.  
The haematology chemotherapy unit
After clinic is over and the less exciting jobs have been completed (dictating letters and booking follow-up appointments!), I have a meeting with a colleague and a pharmacy student from the University of Birmingham (UoB) to discuss progress with a final year project the student is undertaking with us.  The project is an evaluation of the efficacy of aciclovir to prevent reactivation of varicella zoster virus after allogeneic stem cell transplantation.  The student has produced a fantastic spreadsheet to record all the patient data and has been making excellent progress with data collection.  We provide some advice on data analysis and also discuss the possibility of preparing an abstract that the student can submit to a national conference later in the year. We agree a set of targets and make plans to meet up again in a couple of weeks.  Collaboration with our academic partners provides great benefits all round: it enhances the students' knowledge and skill sets and it allows the hospital to obtain answers to important clinical questions that we don't always have time to address due to the busyness of the day to day routine.
My next task is to finish updating a lecture that I am due to give later in the week as part of the Cancer module for the UoB MPharm course.  I deliver 5-6 lectures each year to the 3rd year students and one of the "downsides" of working in such a fast moving area as cancer is that you can never simply regurgitate the same lecture year after year as there are always new drugs and treatment approaches to talk about.  My task for today is to add some slides on immunotherapy and CAR-T to a session on new drugs in haematology.  Hopefully some of the audience will turn out to be the next generation of oncology and haematology pharmacists so I always feel that it is worth spending time making the content as interesting and engaging as possible!
My last job for the day is to take over from a colleague who has been supporting the haematology day unit and has had to leave early.  I need to make sure that all the chemotherapy for the next day has been prescribed and clinically screened.  I also prepare a medication booklet for and counsel a new myeloma patient who has just started a complicated chemotherapy schedule involving parenteral and oral SACT and multiple supportive medicines.  Explaining to the patient how to take their medicines might not be the most cutting edge of activities but it is critically important as a tool to promote adherence and it gives a real sense of satisfaction when a patient is appreciative of your input into their care.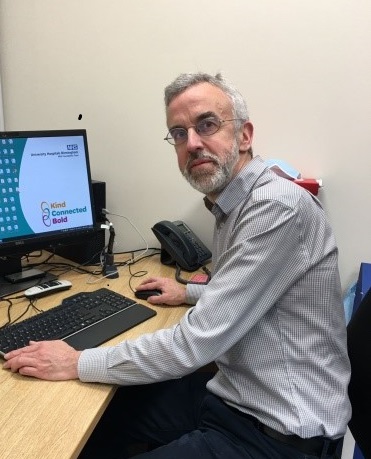 Nick Duncan in the haematology clinic