By Emma Foreman, Biosimilars Task Force Chair
Once again, I would like to thank everybody who took the time to complete our survey – we were really pleased with the level of response.  The survey was circulated to ISOPP members as well as other national oncology pharmacy associations and by word of mouth.  Task Force member, Annemeri Livinalli translated the survey into Portuguese to encourage more responses from Brazil. 
Here are the main results:
Survey responses: 90 
(50 ISOPP members and 40 non-ISOPP members)
This gives us a 19% response rate from the ISOPP membership 
Respondents represented 27 different countries across 6 continents with the greatest number of responses coming from Japan (18%), Brazil (12%), Australia (10%) and Canada (7%). 
The majority of participants work in hospitals of various types, with 19% working in outpatient settings.
The most commonly available biosimilars based on % of responses were filgrastim (87%), infliximab (64%) and trastuzumab (59%).  
Only 2% of respondents indicated that no biosimilars were available for use. These figures will be adjusted to give an idea of availability by country or national income group for our final report. Of our respondents, 87% use biosimilars and of those who don't, 50% are considering their use.  Reasons for not considering biosimilars included lack of availability, clinician or patient resistance and purchasing contracts or procurement arrangements.  These results are in agreement with the findings of our education and training needs survey.
66% of respondents had regulatory pathways for the introduction of biosimilars to their national pharmaceutical market, identifying 20 different licensing agencies responsible for regulating use. Only 5% had no licensing agency. In the majority of cases (64%) the final decision on whether to use a biosimilar in a particular institution is made by an institutional Pharmacy and Therapeutics Committee with the main influences on that decision being cost (92%), clinical data (73%) and availability (63%)
60% of respondents indicated that partial implementation of biosimilars took place in their institution. The reasons for partial implementation included:
A lack of data in a particular indication e.g. stem cell transplant or paediatrics 
Use of biosimilar in non-cancer indications but originator for cancer indications (lack of trust in biosimilars)
Unreliable supply of biosimilar product
Different route of administration e.g. Herceptin SC injection vs biosimilar IV infusion
Payer preferences
Prescriber preferences
29% of responders reported that automatic substitution was allowed in their institution, 14% replied 'sometimes' but 51% indicated that this was not allowed.  
37% used paper or electronic standard treatment plans or proformas to standardise biosimilar use in their institution, with a further 21% sometimes using this approach  45% used information technology or clinical decision support to guide clinicians in the prescribing of biosimilars, with a further 14% sometimes using this approach .  
65% of respondents indicated that they had no institutional plan to manage product shortages.
Our survey highlighted a significant variation in the nomenclature used when labelling biosimilar products, with respondents using various combinations of generic names and brand names with or without suffixes (see chart below).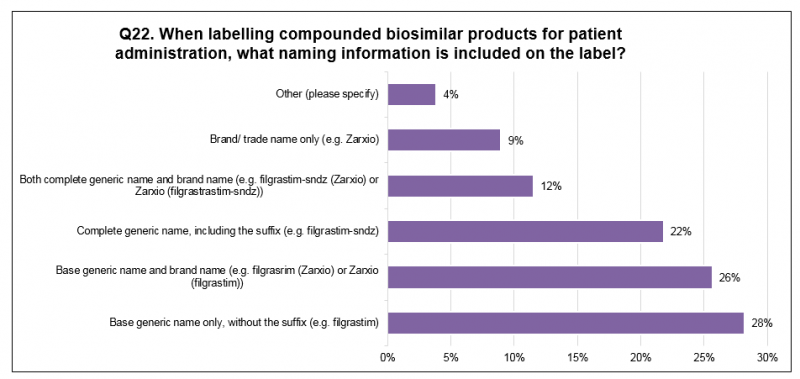 There was also variation in practice around storage and prevention of selection error: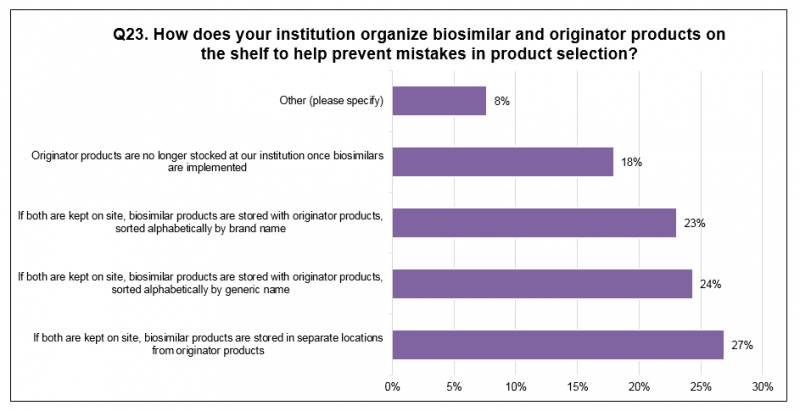 One area for improvement is in quality assurance and pharmacovigilence. 60% of respondents reported having no pharmacovigilence mechanisms in place with a further 10% unsure if any mechanisms were in place.
Next steps:
These results will be used to inform an ISOPP position statement on the use of biosimilars, and we now have a draft programme for the biosimilars workshop which will address the educational and training needs identified in our surveys.  Harbans Dhillon and I will be presenting some of our work at the MASCC conference this month and we are looking forward to sharing our full report and launching the position statement as part of the 'Biosimilars Showcase' at the ISOPP 2019 Symposium. We are also planning to write up our results for publication later in the year.
Have a great summer everyone!
Emma