Click on the links below to go directly to any of the following sections:
About London
London is the capital and most populous city of England and the United Kingdom. Standing on the River Thames in the south east of the island of Great Britain, London has been a major settlement for two millennia.
London is a leading global city in the arts, commerce, education, entertainment, fashion, finance, healthcare, media, professional services, research and development, tourism and transportation. It is the world's largest financial centre and has the fifth or sixth largest metropolitan area GDP in the world. London is often regarded as a world cultural capital.
Did you know? More languages are spoken in London than in any other city in the world!
There are many ways to explore London: by Metro, on foot, by bus, on water, or by bike. From Big Ben to the London Eye to experience spectacular views of the city's skyline to London Bridge, Buckingham Palace and Camden Market, there is something to see and do for everyone. Also, there are more than 230 theatres in London. You can watch a musical in the West End (near the Novotel) or head to the Globe Theatre to see Shakespeare's plays performed as they would have been in Tudor times.
Did you know? London is not only for tourist attractions, but is also a famous films destination where the city has been used as a backdrop in James Bond and Harry Potter.
Genenral Information on UK and London
The United Kingdom is made up of England, Scotland, Wales and Northern Ireland, is an island nation in northwestern Europe.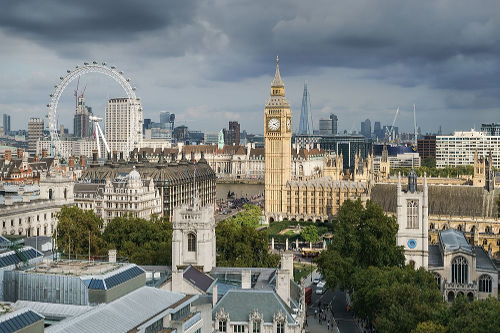 The capital is London. Other major cities include Birmingham, Liverpool, and Manchester in England, Belfast and Londonderry in Northern Ireland, Edinburgh and Glasgow in Scotland, and Swansea and Cardiff in Wales.
United Kingdom has an area of 242,495 square kilometers (93,627 square miles) and a population of 65.64 million. London has a population of 10.66 million.
Location of London
London is situated at 51.51° north latitude and 0.13° east longitude, standing on the River Thames in the south east of the island of Great Britain.
Map of England, UK
Official Language
The official language is English.
Climate
London has a temperate oceanic climate, with warm summers and cool but not cold winters. The average temperature in October is 55.4 F / 13 °C. Visit weather.com for the current forecast.   
Time zone
The local time zone is British Summer Time (BST) from late March until late October. BST is 1 hours ahead of Coordinated Universal Time (UTC).
Currency
The currency in UK is the Pound Sterling (GBP). Visit www.x-rates.com/calculator to calculate the exchange rate from your currency. Credit cards are accepted in major hotels as well as shopping malls.
Tipping
It is customary to tip 10-15% when dining at restaurants, though some restaurants add on a service charge instead.
Most hotel bills also include a service charge, if it is not added it is customary to tip 10-15% of the bill. People often tip porters.
It is polite to tip 10-15% of the taxi fare to black cabs and licensed minicabs.
Business Hours
Bank Hours: Generally, 9:30am to 4:30pm, Monday through Friday.                         
*However, opening times for banks in the UK often vary from town to town, city to city and from bank to bank. Please ensure the opening hours of bank you would like to use.
Typical Office Hours: 9am – 5:30pm, Monday through Friday
Typical Shopping Hours: Generally, 10am – 5:30pm, Monday through Saturday
*In the big city centre, particularly London shops are often open until 7:00pm and seven days a week so please ensure the opening hours of shopping centre you would like to visit.
Public Health
Check the vaccines and medicines list and visit your doctor (ideally, 4-6 weeks) before your trip to get vaccines or medicines you may need.
For more detail, visit the Centers for Disease Control and Prevention
Safety
Generally, the UK is a safe country to travel around. As in all major cities, people should be aware of safety risks and be vigilant of your surroundings at all times.
Measures
The metric system is used. However, imperial measures are still in use, especially for road distances, which are measured in miles. Imperial pints and gallons are 20 per cent larger than US measures.
Voltage and Plug Type
The voltage in Britain is 220/240 AC, 50 Hz. Electrical plugs have three rectangular pins and take fuses of 3, 5 and 13 amps. 
Visitors from abroad will need an adaptor for appliances that have been brought from home, such as laptops, hairdryers and phone chargers.
*Novotel London West Hotel has 110/120V AC in all type of room.
Visa Information
Entering the United Kingdom may require a valid travel visa. If you require a visa to travel to the Symposium or if you are unsure, please contact the British Embassy or Consulate in your country or region.  The Embassy or Consulate will advise on specific visa requirements, such as information on travel visa application and submission procedures, required documents, application fees payable, and whether booking an appointment for an interview is required. Visa fees may vary depending on nationality and processing time available.
Visit the UK Government website for details.