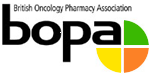 Date: Thursday, October 10, 2019
Time: 09:15-16:30 (Registration opens at 08:30)
Venue: Novotel London West, London, UK
Fee: Complimentary to BOPA Members and ISOPP 2019 Registrants
        The Introduction to Oncology Pharmacy Course is now full. 
Note: The Course runs concurrently with the Biosimilars Workshop. Participation is only possible in one or the other.
Course Description
This one day course is an Introduction to Oncology Pharmacy and is a fantastic networking opportunity for professionals new to working in oncology (less than 2 years' experience). Specialist and experienced speakers will present sessions on key topics such as pharmaceutical care planning, oncological emergencies and the latest advances in personalized medicine. 
Program at a Glance
To come
Presenter Information
To come
Registration:
The Introduction to Oncology Pharmacy Course is now full. 
The Course is open to all current BOPA members (at the time of registration and attendance of the Course), and/or ISOPP 2019 registrants. In the event of late cancellation (within 5 working days of the Course date) or non-attendance, a fee of £100 will be applied. Space is limited and pre-registration is required.
Not a BOPA member or ISOPP 2019 registrant? Join BOPA at the newcomer rate of £35 and/or register for ISOPP 2019. Once you are a BOPA member, you will have access to BOPA's online educational resources and forums, exclusive webinars and study days, plus BOPA's Annual Symposium discounts.