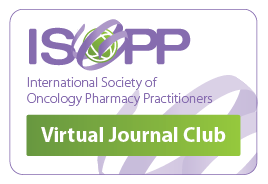 Articles from the Journal of Oncology Pharmacy Practice (JOPP) which have been published online will be featured in the Virtual Journal Club, an initiative to encourage ISOPP members to read these articles earlier, and to provide a wider readership for authors. 
Members are encouraged to read articles below and then answer a series of multiple choice questions through the Virtual Journal Club Surveys. After completing the questionnaire, members will be emailed a personalized certificate. Although not formally accredited continuing medical education (CME) points, participation is equal to one hour of CME activity.
JOPP articles and a certificate of completion are available to members only.  Click here to become a member today to receive these benefits.
Members are also encouraged to use the Member Discussion Forum (access is for members only) to stimulate discussion about articles they have read. Your ISOPP membership provides many great benefits and we are hopeful you will find the Virtual Journal Club another asset to your oncology pharmacy practice.
Recognize the Virtual Journal Club by this symbol (on the right).
Thanks to Virtual Journal Club Work Group for their commitment to this initiative.
Virtual Journal Club Surveys

"VicTAG chemotherapy audit toolkit: improving chemotherapy quality and safety"

"Tolerability and efficacy of chemoimmunotherapy when administered with a corticosteroid-free anti-emetic regimen"

"Critical appraisal of clinical guidelines for prevention and management of doxorubicin-induced cardiotoxicity"

"Prognostic and predictive biomarkers with therapeutic targets in breast cancer: A 2022 update on current developments, evidence and recommendations."

"Real-world analysis of tumor lysis syndrome in patients started on venetoclax combination for acute myeloid leukemia"

"Pharmacy considerations: Use of anti-CD38 monoclonal antibodies in relapsed and/or refractory multiple myeloma"

"What patient assessment skills do pharmacist independent prescribers require to prescribe immunomodulators in myeloma?"

"Rucaparib and olaparib for the treatment of prostate cancer: A clinician's guide to choice of therapy " 

"New and emerging therapies for the treatment of relapsed/refractory diffuse large B-cell lymphoma" 

"The efficacy and safety of alpelisib in breast cancer: a real-world analysis " 

"Management of Myeloproliferative Neoplasms (MPNs)" 

"Real-world management of targeted therapies in chronic lymphocytic leukemia" 

"The efficacy and cost-impact of rasburicase 3 mg versus 6 mg for the management of tumor lysis syndrome: A multicenter analysis" 

"Oral oncolytic treatment for chronic lymphocytic leukemia"

"A contemporary review of rearranged during transfection-selective inhibitors"

"Bruton tyrosine kinase inhibitors for Waldenström macroglobulinemia: a review."

"Use of nab-paclitaxel and gemcitabine in pancreatic cancer without granulocyte colony-stimulating factor: A multicenter real-world experience"

"Management of chimeric antigen receptor T-cell induced cytokine release syndrome: Current and emerging approaches"

"Validation of chemotherapy drug vapor containment of an air cleaning closed-system drug transfer device"

"Updates in the management of relapsed/refractory multiple myeloma." 

"Implementation of a clinical pharmacist-led service to optimize management of refractory chemotherapy-induced nausea and vomiting in adult hematology/oncology clinic."

"Predictive and prognostic biomarkers with therapeutic targets in colorectal cancer: A 2021 update on current development, evidence, and recommendation"

"Retrospective analysis of mortality within 30 days of systemic anticancer and comparison with a previous audit at an Australian Regional Cancer Centre."

"Randomized clinical trials and real life studies: Comparison of baseline characteristics of patients in oral target therapies for renal cell carcinoma"

"Assessing the risk of venous thromboembolism (VTE) in ambulatory patients with cancer"

"Improving rates of venous thromboembolism prophylaxis in multiple myeloma patients on immunomodulatory drugs through a pharmacy-based system"

"Clinical controversies in the treatment of cancer-associated venous thromboembolism"

"Applications and challenges in therapeutic drug monitoring of cancer treatment: A review"

"Updates in the management and future landscape of urothelial carcinoma"

"Evaluating genomic biomarkers associated with resistance or sensitivity to chemotherapy in patients with advanced breast and colorectal cancer"

"Oral sodium bicarbonate protocol for high-dose methotrexate urine alkalinization: A pediatric experience"

"Afatinib for the treatment of EGFR mutation-positive NSCLC: A review of clinical findings"

"A real-world data approach to determine the optimal dosing strategy for pembrolizumab" 

"A single-center qualitative study evaluating the safety and efficacy of a pharmacist-driven protocol for high-dose methotrexate management"

"Healthcare professionals' attitudes of implementing a chemotherapy electronic prescribing system: A mixed methods study"

"Comparison of 8 screening tools to detect interactions between herbal supplements and oncology agents"

"PARP-inhibitor potpourri: A comparative review of class safety, efficacy, and cost"

"Practical considerations for the use of direct oral anticoagulants in oncology patients"

"A review of checkpoint inhibitors in the management of renal cell carcinoma"

"Apalutamide: A new agent in the management of prostate cancer"

"Updates in the management of chronic lymphocytic leukemia/small lymphocytic leukemia"

"A retrospective analysis of tumor lysis syndrome management in a quaternary care hospital "

"Characteristics of hospitalizations among patients receiving immune checkpoint inhibitors at a community teaching hospital"

"Application of the 2015 proposed NIOSH vapor containment performance protocol for closed system transfer devices used during pharmacy compounding and administration of hazardous drugs"

"Implications of parenteral chemotherapy dose standardisation in a tertiary oncology centre"

"Penetrating the evidence of EGFR and ALK TKIs for non-small cell lung cancer brain metastases"

"Centralized preparation of chemotherapy for remote administration"

"Single 6-mg dose of rasburicase: The experience in a large academic medical center" 

"Overuse and Underuse of Pegfilgrastim for Primary Prophylaxis of Febrile Neutropenia" 

"Evaluation of the prescribing patterns, adverse effects, and drug interactions of oral chemotherapy agents in an outpatient cancer center"

"Comparison of the incidence of febrile neutropenia in obese and normal weight breast cancer patients receiving myelosuppressive chemotherapy and prophylactic pegfilgrastim"

"To do or not to do: A concise update of current clinical controversies in immune checkpoint blockade"

"Real world evidence: abiraterone use post-docetaxel in metastatic castrate-resistant prostate cancer"

"Integration of clinical pharmacists into an ambulatory, pediatric hematology/oncology/transplant clinic"

"Management of hepatitis B reactivation in lymphoma patients on rituximab with past hepatitis B exposure: An observational study"

"Systemic anticancer therapy in the last 30 days of life: Retrospective audit from an Australian Regional Cancer Centre."

"Impact of fluoroquinolone prophylaxis on infectious-related outcomes after hematopoietic cell transplantation."

"Tocilizumab for the management of immune mediated adverse events secondary to PD- 1 blockade."

"Development of a flowchart for risk assessment and allocation of preparation of monoclonal antibodies"

"BCR-ABL1 tyrosine kinase inhibitors for the treatment of chronic myeloid leukemia" 

 

"A review of CD19-targeted immunotherapies for relapsed or refractory acute lymphoblastic leukemia" 

"The utility of routine pre-chemotherapy screening with cardiac gated blood pool scan for patients at low risk of anthracycline toxicity"

"The clinical significance of QT prolongation associated with tamoxifen: A review of the literature"

"Venetoclax: A novel B-cell lymphoma-2 inhibitor for chronic lymphocytic leukemia and other hematologic malignancies"

"Association of hypertension and treatment outcomes in advanced stage non-small cell lung cancer patients treated with bevacizumab or non-bevacizumab containing regimens"

"Potential cost savings by dose down-rounding of monoclonal antibodies in a community cancer center"

"Assessment of Adherence and Relative Dose Intensity with Oral Chemotherapy in Oncology Clinical Trials at an Academic Medical Center"

"Feasibility of Extended Dosing Intervals of Denosumab"

"Incidence of late onset neutropenia associated with rituximab use in B Cell lymphoma patients undergoing autologous stem cell transplantation"

"Clinical Effectiveness of Bevacizumab in Patients with Recurrent Brain Tumours: A Population-Based Evaluation"

"Baxter elastomeric pumps: Weighing as an alternative to visual inspection."

"Necitumumab for the treatment of squamous cell non-small cell lung cancer."

"Adherence with capecitabine: A population-based analysis based on prescription refill data."

"Rationalizing the use of auxiliary label for oral oncology drugs."

"Expanding the armamentarium for chronic lymphocytic leukemia: A review of novel agents in the management of chronic lymphocytic leukemia"

"An update on current and emerging therapies for epithelial ovarian cancer: focus on poly(adenosine diphosphate-ribose) polymerase inhibition and angiogenesis" 

"Baxter elastomeric pumps: Feasibility of weight estimates" 

"Taxane-induced arthralgia and myalgia: A literature review - multiple choice questions" 

"Safe handling of oral antineoplastic medications: Focus on targeted therapeutics in the home setting"

"Drug interactions with aprepitant or fosaprepitant: review of the literature and implications for clinical practice."

"Impact of a pharmacist-led oral chemotherapy-monitoring program in patients with metastatic castrate-resistant prostate cancer."

"Why adjuvant chemotherapy for stage III colon cancer was not given: Reasons for non-recommendation by clinicians or patient refusal."

"A review of blinatumomab, a novel immunotherapy."

"Effects of gender on capecitabine toxicity in colorectal cancer."

"Tyrosine kinase inhibitors for epidermal growth factor receptor gene mutation-positive non-small cell lung cancers: an update for recent advances in therapeutics."

"Does gastric acid suppression affect sunitinib efficacy in patients with advanced or metastatic renal cell cancer?"

"Multiple myeloma maintenance therapy: A review of the pharmacologic treatment"

"Medication adherence among adults prescribed imatinib, dasatinib, or nilotinib for the treatment of chronic myeloid leukemia"

"Does applying technology throughout the medication process improve patient safety with antineoplastics?"

 "What are the needs of community pharmacists to ensure the safe use of oral anti-cancer therapy in the community setting? Results of a cross-country survey of community pharmacists in Canada."

"The life, death, and attempted rebirth of bevacizumab in breast cancer"

"Efficacy vs. effectiveness: Erlotinib in previously treated non-small-cell lung cancer"

"Docetaxel-associated palmar-plantar erythrodysesthesia: a case report and review of the literature"

"Predictive and prognostic biomarkers with therapeutic targets in breast, colorectal, and non-small cell lung cancers: a systemic review of current development, evidence, and recommendation."

"Intavenous chemotherapy preparation errors: Patient safety risks identified in a pan-Canadian exploratory study"

"Evaluation of clinical pharmacists' follow-up service in an oncology pain clinic"

"Clinically relevant cancer biomarkers and pharmacogenetic assays." 

"Cetuximab infusion reactions: French pharmacovigilance database analysis"

"Ipilimumab for Advanced Melanoma: A Pharmacologic Perspective"

"Disintegration of chemotherapy tablets for oral administration in patients with swallowing difficulties."

 "Targeted therapy for gastric cancer: current trends"

"Clinical pharmacy services and research for lymphoma patients at a cancer center" 

"Telepharmacy in a rural Alberta Community Cancer Network" 

"An analysis of measured and estimated creatinine clearance rates in normal weight, overweight, and obese patients with gynecologic cancers" 

"Oxaliplatin-induced hepatocellular injury and ototoxicity: A review of the literature and report of unusual side effects of a commonly used agent." 

"Capecitabine non-adherence: Exploration of magnitude, nature and contributing factors."

"A new era for castrate resistant prostate cancer: A treatment review and update"