By Manit Saeteaw, Faculty of pharmaceutical sciences, Ubon Ratchathani University, Thailand
Asia Pacific Oncology Pharmacy Congress (APOPC) is a biennial conference targeting oncology pharmacists, pharmacy technicians and other healthcare professionals practicing in oncology from Asian countriesThe year 2021 marks the 3rd anniversary of the Asia Pacific Oncology Pharmacy Community (APOPC) as being transformed from the  formerly community of practice known as Asia for Safe Handling (asia4safehandling.org founded in 2004) to reflect the recent development of oncology pharmacy practice in the Asia Pacific region. This APOPC 2020/2021 Virtual Symposium was jointly organized by Asia Pacific Oncology Pharmacy Community, Asia Pacific Oncology Pharmacy Association (Thailand), Faculty of Pharmaceutical Sciences Khon Kaen University and Faculty of Pharmacy Chaing Mai University, and held during 28-30 October 2021 in Thailand.
"Innovation to Transform Oncology Pharmacy Practice" has been selected as the main theme for the 8th Asia-Pacific Oncology Pharmacy Congress (APOPC2020/2021) to commemorate the important milestone.
This conference concurrently included 4 oral presentation sessions for numerous patient care research along with the main stream presentation Highlight Topic on day 1 including, "Innovation to Transform Oncology Pharmacy Practice" by Ms. Harbans Dhillon overviewing evolution of oncology pharmacist from bench to bedside and supporting technologies for cytotoxic compounding and pharmaceutical care. Topic "Barrier and Facilitators to Telemedicine in care for cancer patients" by Ms.Lita Chew elaborating telepharmacy using telecommunication to provide pharmaceutical care for patients located in distance area during COVID-19 pandemic. Highlight Topic on day 2 including, "Innovation Application of Technology in Oncology Pharmacy" by Mr.Hisanaga Nomura and Mr.Bo Yu demonstrating advanced technology supporting cytotoxic compounding activity including closed system drug-transfer device (CSTD) and robot for aseptic compounding. Topic "Strategies for managing cancer patients during COVID-19 pandemic" by Ms.Vivianne Shih prioritizing and delivering optimal cancer care during COVID-19 pandemic. Highlight Topic on day 3, topic "Living with and beyond cancer-survivorship and follow up care program" by Prof.Alexandre Chan and Ms.Ke Yu addressing, early detection and treatment according to evidence-based information for long term adverse events in cancer survivors.
As for the future APOPC in 2023, Japan will be the next host. This must-attend event will offer lots of opportunity to update evidences in oncology pharmacy, make friends and network with oncology pharmacists from all over the Asia Pacific region and beyond. Last and not least, to experience the culture and beautiful landscape of Japan. We look forward to seeing you in APOPC 2023.
***Sawasdee***
Virtual meeting topic "Debate on Management of Cancer-Related Thrombosis"
APOPC 2020/2021 Closing and Awarding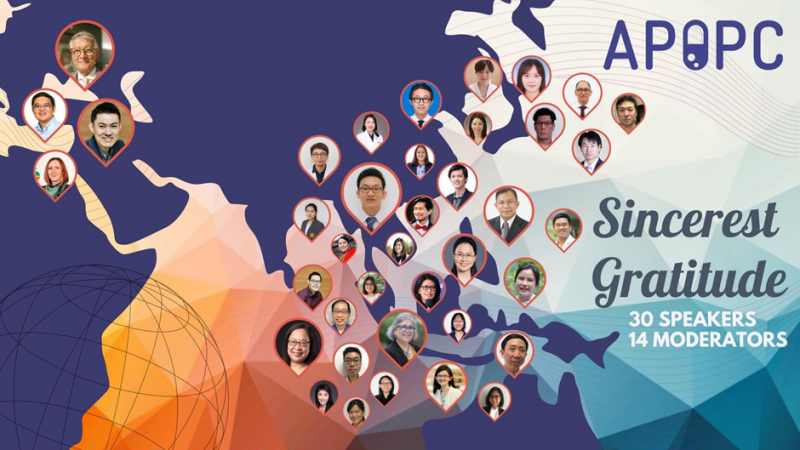 APOPC 2020/2021 Speakers and Moderators
Tags: