The program at a glance is available on the ISOPP 2018 website. 
The theme of ISOPP 2018 is East Meets West: Past, Present, and Future. We share a common mission: advancing cancer patient care. Differing medical practices to achieve our mission creates an opportunity. As the role of oncology practitioners in the care of cancer patients evolves, we seek to integrate the best practices in our care of cancer patients. We welcome you and others to share your best practice - the best of the East and the West - so that we can all learn about the evolution of these practices to enhance the care of all cancer patients.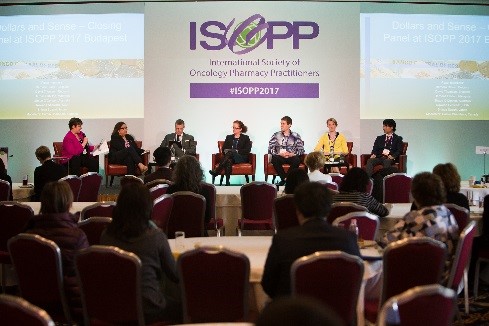 Panel session at ISOPP 2017
Listed below are the panel and debate sessions and a sample list of concurrent sessions, details of which will be posted to the ISOPP 2018 website as they become available.
Panel and Debate Sessions
Interprofessional Collaborative Practice 
Precision Medicine in Oncology  
Opioid Addiction in Cancer Patients 
Shared Experiences of Student Research Projects  
Oncology as a Specialty versus Oncology as Required Knowledge for General Pharmacists
Concurrent Sessions
Updates in Hematology
Pharmacovigilance in Oncology
Recent Significant Papers in Oncology
Solid Tumour Updates
Updates in Pediatrics
Oral Cancer Drugs: Oral Cancer Drug Safe Use and Safe Handling
Breakthrough Oncology Pharmacotherapy: CAR-T Cell Therapy
Tags: